Primary Care Physicians May Not Be Effectively Treating Depression


According to TIME magazine, these practitioners, when called on to treat depression, often are not well prepared for the task.

Suicide Risks Increase for Teens
of Parents Deployed Multiple Times
The Los Angeles Times reports on a study showing that when parents engage in multiple military deployments, there's a higher chance their teenage children may attempt suicide.



Sleep Therapy May Be Effective Depression Treatment


According to The New York Times, this therapy is showing promise as an effective treatment for people with depression.



Why College Campuses Are Vulnerable to Meningitis Outbreaks


NPR reports on why college campuses get hit hard with incidents of meningitis.



Apps to Quit Smoking Lack Proof


Many of the most popular antismoking apps lack some basic strategies that are known to help smokers quit, according to a new study in the American Journal of Preventive Medicine. Learn more »




Bullying is a growing problem in our culture, but only recently has this antisocial behavior received significant attention in the media, schools, and workplaces, due in part to the reaction and retaliation of bullying victims.

Response and revenge has been experienced through school and workplace shootings and victim suicides causing a public outcry for bullying prevention measures. Bullying victims may experience multiple mental health consequences associated with repetitive attacks. Children may not want to go to school and eventually drop out. They may exhibit symptoms of depression; feelings of rejection, withdrawal, loneliness, or helplessness; and carry an overwhelming sense of worthlessness.

Bullying is a mental health issue of great concern to social workers who work with children who are bullied and their parents and other caregivers. This month's E-News Exclusive offers some insight into the nature of bullying and some strategies for parents and caregivers to help children who are being bullied.

We welcome your comments at SWTeditor@gvpub.com. Visit our website at www.SocialWorkToday.com, join our Facebook page, and follow us on Twitter.

— Marianne Mallon, editor



Teaching Children How to Handle Bullies


By Timothy G. Weih, PhD

Sometimes, parents or caregivers don't know how to help their child handle a bully. Even though recent shootings, bombings, and suicides have been linked to bullying, many people continue to think that bullying is a normal human behavior and just a form of children teasing each other. But social workers can help parents and caregivers determine how to navigate these tough situations.

Parents or caregivers first should listen to the child and discuss his or her feelings about what's happening without dismissing or shrugging off the episodes as a normal rite of childhood. They should get the details: who has done what, when, where, and how. They should write down this information and maintain a daily conversation with the child to determine whether what's happening could be identified as bullying and what patterns seem to be occurring.

It's important to understand that the child may feel embarrassed and ashamed by what the bully has said—that's the bully's intention—especially if the bully has made derogatory comments about the child's parents or caregivers. This could make it difficult for the child to talk about the situation.

Additional steps parents and caregivers should take include the following:

Full Story »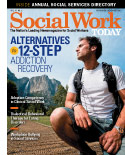 November/December 2013



View the current issue of Social Work Today now!

Social Work Today is mobile for iPhone, iPad, and Android users!

Visit www.SocialWorkToday.com/digital on your phone's browser to view the mobile version of this issue and bookmark us for future issues.