State Health Depts Like Social Media to Spread Information


The Brown School at Washington University in St. Louis finds Twitter and Facebook use among state health departments is growing, especially in states with larger, urban populations.
Learn more »

Try These Apps, Then Text Me
in the Morning
Smartphones have revolutionized how many people function on a daily basis, and the medical field is finding that smartphone apps can help transform a person's health habits. Learn more »



Have a product or service you want to market to social work professionals, or an open position that you need to fill quickly? Social Work Today offers many flexible advertising programs designed to maximize your results. From print advertising to e-newsletter sponsorships, website advertising to direct mail opportunities, Social Work Today helps achieve your goals. E-mail our experienced account executives today for more information or call 800-278-4400!

AlliedHealthCareers.com is the premier online resource to recruit social work professionals. Post your open positions, view résumés and showcase your facility's offerings all at AlliedHealthCareers.com!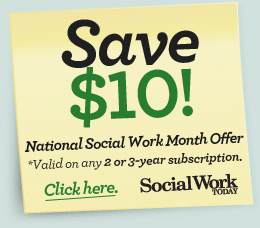 Public education about social work is an important professional responsibility, and imperative for erasing misconceptions and promoting understanding of the unique skill sets and perspectives with which social workers approach their interactions with individuals, families, and communities. One of the many challenges of spreading the word about social work is that for many reasons, from client confidentiality to the intangible nature of human growth and healing, so much happens behind the scenes and is difficult to quantify or qualify, despite the demand for evidence-based practice.

For National Professional Social Work Month, our E-News Exclusive attempts to answer the question social workers are often asked: "What is social work?" A social work professor with previous experience in direct client care in diverse settings crafted a response. He uses his creative writing skills to compose a piece fusing prose and poetry to describe some often elusive characteristics that make social work what it is.

This month, enjoy, honor, and celebrate your profession!

We welcome your comments at SWTeditor@gvpub.com. Visit our website at www.SocialWorkToday.com, join our Facebook page, and follow us on Twitter.

— Marianne Mallon, editor



What Is Social Work?
By Rich Kenney, MSSW

In the 30 years I have been a social worker, I often have been asked the question, what is social work? My reply always is the same: Social work is what happens behind the scenes, and chances are you won't know it even when you see it.

However, my answer, though purposely planned, is never enough. The question then becomes, what does that mean? That's my cue to elaborate, and this is the story I tell:

Full Story »



Working With Veterans and Military Families


With veterans and military families, "meeting clients where they are" may require additional training, and social workers are preparing to address this challenge. Read more »



Trauma-Informed Social Work Education


In recent years, trauma education has vastly evolved, and frequent mass violence, natural disasters, and other tragic events amplify its importance in social work curriculum. Read more »



Actors Portray 'Read World' of Social Work


Caseworkers in Wisconsin are partnering with a local theater group to sharpen their skills for dealing with clients across a range of scenarios. Read more »



Military Charities Report Record Levels of Demand


According to USA Today, military charities are experiencing high demand from veterans without income awaiting disability checks.

Some TV Programming Can Help Discourage Aggression
in Young Children
The New York Times reports on research showing that less violent, more educational TV programming encourages empathy in young children.



More Than Half of Youths With HIV Don't Know They Have It


According to CNN, stigma and inconsistent, inaccessible testing are some of the reasons youths are unaware of their HIV-positive status.



Rehabilitation Program Reaches Out to Cancer Survivors


NPR reports on a program started by a physician breast cancer survivor that offers cancer survivors rehabilitation therapy after treatment.