Social workers are versatile, using their talents and expertise to improve lives in various settings. This helps make the profession exciting and ever-changing.

Each setting presents unique circumstances that make it challenging yet rewarding. This month's E-News Exclusive steps inside long term care facilities to take a peek at how social workers can thrive.

We welcome your comments at SWTeditor@gvpub.com. Visit our website at www.SocialWorkToday.com, like our Facebook page, and follow us on Twitter.

— Lee DeOrio, editorial director


Why Long Term Care Settings Pose Unique Challenges for Social Workers



By Lina Becker

Social workers in long-term acute care hospital (LTACH) settings experience a range of challenges that are generally unique compared with those experienced by their peers.

The importance of their roles and functions in long term care (LTC) facilities deserves the industry's utmost attention. Social workers are essential members of any health care team and serve in a variety of key capacities, including liaising between patients and care communities, to optimize patients' quality of life and care.

The Roles of Social Workers in LTACH Settings
The roles of social workers in LTC settings will vary according to the ages, health statuses, and individual needs of their patients. Social workers in LTC settings can play the following roles:

• assisting in patients' transition from acute care hospitals into LTC facilities;

• assisting patients in identifying the resources they need to meet their specific needs;

• working with the families of patients to deal with certain aspects of illnesses and conditions that patients are suffering from;

• preadmission and discharge planning; and

• completion of part of the minimum information required for each patient.

Full story »


Connecticut Collaborative Spearheads Statewide Police Social Work Initiative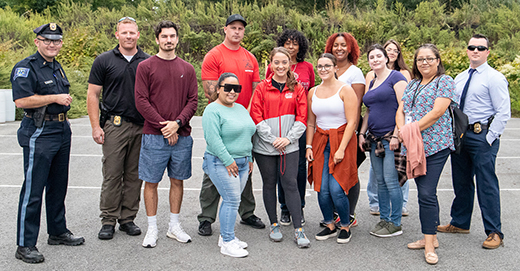 Police social work interns and police officers pose for a group photo at the inaugural PSW Intern Academy, the primary training program of the Social Work and Law Enforcement Project. Photo by Bonnie Solivan

What started as a pilot internship last year with two Eastern Connecticut State University students has evolved into a statewide collaboration that may well serve as a national model for the emerging field of police social work. The Social Work and Law Enforcement (SWLE) Project, spearheaded by Eastern's Social Work Program and the Willimantic Police Department, is currently training eight social work students from five universities to work with four police departments across Connecticut.

Not only is it the first such project in the state, but according to Isabel Logan, EdD, LCSW, a professor at Eastern, it is likely the first specialized training program in the country that prepares social workers and police officers to work alongside each other. "Despite police social work being around for decades, this is still a very new area," Logan says. "To date, there has been no specialized training in this field."

Until recently, the two professions were often considered diametrically opposed, with social workers and police officers on opposite sides of the justice system. However, public outcry for police reform following high-profile accounts of police brutality—typified by the killing of George Floyd in May 2020—has brought the unlikely partnership back into consideration.

The interns are being trained to accompany officers on nonviolent calls pertaining to mental health, substance abuse, homelessness, and other social issues. They also spend much time making follow-up calls and visits after crisis situations, checking on how people are coping and ensuring that they're being connected to the necessary social services.

"What we're trying to do is head off the crisis stage and get them the services they need before a crisis happens," says Willimantic Police Chief Paul Hussey.

This is work that most police departments aren't staffed to fulfill, and work that Logan says will lower rates of entry and recidivism into the justice system.

Read more »


New Book Offers Guidelines for Working With Gender-Diverse Groups



Sex and Gender Education (SAGE) Australia has completed its three-year global research project into suicide in sex and/or gender diverse (SGD) communities. The result is a comprehensive guide providing much-needed training and education for health care professionals.

Suicide in Intersex, Trans and Other Sex and/or Gender Diverse Groups: A Health Professional's Guide is the first book for sexologists, sex therapists, psychiatrists, family doctors, nurses, psychologists, psychotherapists, counsellors, social workers, naturopaths, and health care managers on suicide prevention with clients who are intersex, trans, and gender nonconforming.

Written by Tracie O'Keefe, DCH, BHSc, ND, a clinical psychotherapist, registered mental health professional, and sexologist in Sydney, Australia, the book provides a review of the incidence of suicidal thoughts, attempts, and successful suicides in people from SGD groups. These are people who are intersex, androgynous, transgender, transsexual, nonbinary, and more.

It offers information into the experiences of people from SGD groups, the discrimination and abuse they have encountered, and the many reasons why they might contemplate, attempt, or succeed in ending their own lives.

Read more »


Social workers care about their clients, but rarely do they have time to care about themselves. Show yourself a little appreciation with field-inspired gear from our Gift Shop. We've got the perfect item for every situation from busy days in the office to at-home visits. Check out our secure online shop today or call toll-free 877-809-1659 for easy and fast ordering.


The Intersection of Critical Race Theory and Curriculum


Explore both what critical race theory is and is not, and how it connects to the discussion surrounding what's being taught in our classrooms. Read more »



Social Work and Money: We Need to Talk About It


Many Americans are financially illiterate, a situation where social workers can step in to help solve the problem. Read more »


Study Finds Homicide Is a Leading Cause of Death in Pregnant People


A recent study found that people who are pregnant or postpartum are twice as likely to die by homicide than any other leading cause of maternal mortality, and those at the greatest risk are Black women and people under the age of 25, according to The Lily.



Data Science Proved What Pittsburgh's Black Leaders Knew: Racial Disparities Compound COVID Risk


Data analysts from Pittsburgh found that people of color were at higher risk of COVID infection, severe disease, and death, reports Kaiser Health News.



A Secure, Anonymous Résumé Bank
Job Alerts Sent to Your E-mail


Have a product, service, or educational program you want to market to social work professionals, or an open position that you need to fill quickly? Social Work Today offers many flexible advertising programs designed to maximize your results. From print advertising to e-newsletter sponsorships, website advertising to direct mail opportunities, Social Work Today helps achieve your goals. Email our experienced account executives today for more information or call 800-278-4400!

Jobs.AlliedHealthCareers.com is the premier online resource to recruit social work professionals. Post your open positions, view résumés, and showcase your facility's offerings all at Jobs.AlliedHealthCareers.com!