View this email in a browser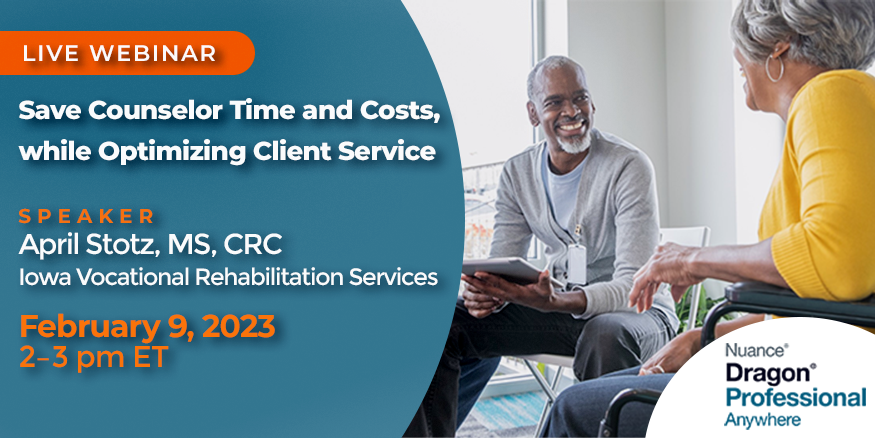 Iowa Vocational Rehabilitation Services (IVRS) supports people with physical and cognitive disabilities achieve their academic and career goals. With a 2022 caseload (Potentially Eligible and Active caseloads) of 16,689 people that could benefit from the support of IVRS counselors, the state and federally funded agency has implemented a secure, cost-effective solution to optimize client service, while reducing counselor overtime and costs.

Join our live webinar as April Stotz, MS, CRC, Training Resource Manager at IVRS, shares how:
Counselors save time and reduce burnout
IVRS measures ROI and cost savings
Counselors drive quality assurance to better support clients
About Our Presenter
| | |
| --- | --- |
| April Stotz, MS, CRC, joined Iowa Vocational Rehabilitation Services (IVRS) in 2006 to help individuals with disabilities reach their employment goals. Later as a Certified Rehabilitation Counselor, she worked directly with juveniles and adults to overcome disability barriers and achieve their academic and career objectives. In 2017 April was promoted to IVRS's Training Resource Manager. She now plans and delivers training to counselors, helping the state agency enhance the life-changing services it provides to clients. April is also an adjunct professor at Drake University in the Counseling Program, a spouse, and a mother to two very active children. She understands all too well the importance of a healthy work/life balance. | |
About Nuance Communications


Nuance Communications is a technology market leader in conversational AI and ambient intelligence, with speech recognition software—Dragon Professional Anywhere—supporting HIPAA requirements for security and confidentiality to help comply with sensitive case documentation. A full-service partner trusted by 77 percent of U.S. hospitals and more than 75 percent of the Fortune 100 companies worldwide, Nuance creates intuitive solutions that amplify people's ability to help others.